Welcome to Casa del Ghiro!
800 metres above sea level 4km from the town of Bardi.
We have a large garden with a patio, a gazebo seating area and plenty of places where you can relax, take in the views, read or make use of the wifi.
SORRY WE ARE CLOSED UNTIL FURTHER NOTICE
CHIUSO FINO A NUOVO AVVISO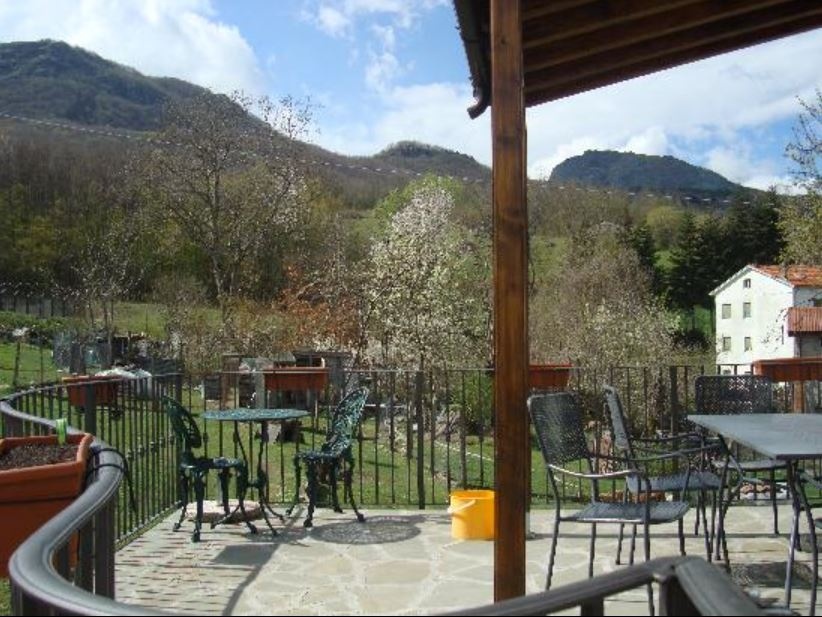 We are Linda and Michael Costello, we left England in 2004 to start a new life in the beautiful tranquil hills of the Apennines in Emilia Romagna.
We love living here so much we decided to share the experience with others by dedicating three rooms for Bed and Breakfast. Because of Covid-19 we have reduced the number of rooms to two on separate floors with private bathrooms and dining areas.
The local area is perfect for those who love nature, animals, trekking or long walks. Aside our amazing castle in Bardi and for those that want to explore further afield, Venice, Florence, Verona, Ravenna, Rimini, the lakes, plus the old Roman cities of Piacenza, Parma, Reggio, Modena and Bologna are all easily accessible within a mornings drive if you feel like exploring history, culture, traditions and fine foods & wines.
ROOM PRICES
Cornish room with double bed on ground floor with private bathroom. 70Euro per night
Lancashire room with double bed on first floor with private bathroom. 70Euro per night
Prices include breakfast and are per room and not per person.
We do not have facilities for accepting credit/debit cards and do not take cheques, therefore payment is accepted in cash, preferably Euros but sterling is acceptable
Discounts for extended stays are as follows.
4 to 6 nights 10%
7 to 9 nights 15%
10 to 13 nights 20%
14 to 20 nights 25%
21 + nights 30%
10Euro reduction for single occupancy on all rooms.